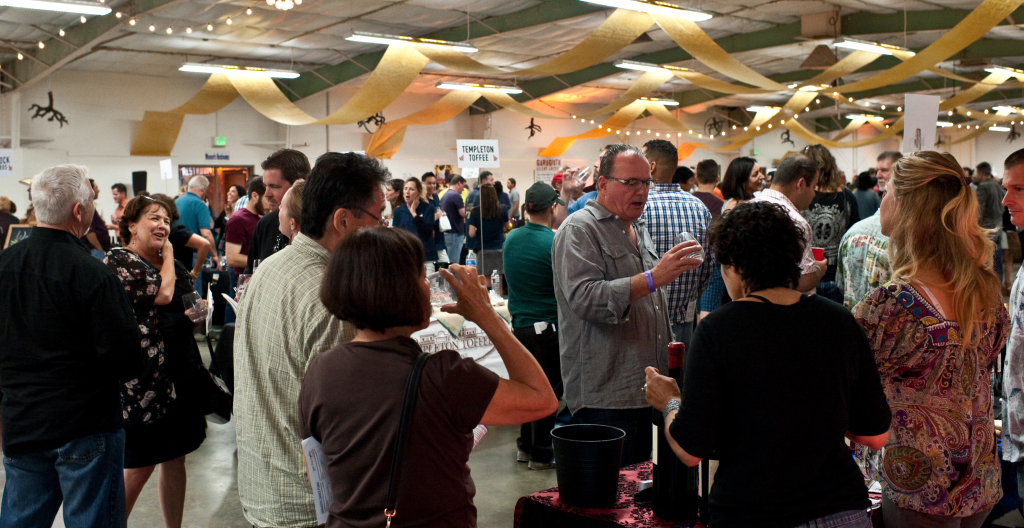 I recently returned from two days at the Paso Garagiste Festival.  This is the event's fourth year, and it has grown leaps and bounds since I wrote about the inaugural event in 2011.  That year, 44 wineries participated in a one-day event; now it is a four day event.  This year 60 wineries alone poured on Saturday, November 8 at the Grand Tasting; another 19 wineries participated in The Opening Round on Friday night.  In all told, 79 wineries pouring over 150 wines.  The garagiste movement is strong.
Attendance that first year was nearly 700 people; this year more than 1,000 consumers attended.  The event also moved from a quaint horse stable at Windfall Farms to the larger Paso Robles Fairgrounds.  Perhaps not as elegant, but winemaker and lighting designer Bill Powell (who was also pouring his wines at Powell Mountain Wines) did a nice job of transforming a cavernous room into something cool.
If you are a winemaker and you make 1,500 cases of wine a year or less, Paso Garagiste considers you a garagiste. Check out this video from co-creator Stewart McLennan.  Garagiste is a French term for a kind of renegade, small production, hands-on winemaker.  Many of the wineries taking part in Paso Garagiste make 600 cases or less, and are often one-man band operations where the winemakers often have full-time day jobs in fields totally unrelated to winemaking.
I tasted some fantastic wines.  I also tasted some wines not ready for prime time. One advantage of being such small operations means that winemakers can experiment with things unconventional varieties (Lagrein, Ribolla Gialla) and techniques like whole cluster fermentations or using large oak puncheons for aging versus small barriques, to lessen the effect of oak flavors on the wine while softening tannins.
While I couldn't get to each and every winery pouring, here are the standouts IMHO.
For me the best overall winery was Two Shepherds from Sonoma County.  I've heard about these Rhone-style wines from my wine writer friends for awhile now and finally got to taste winemaker William Allen's cool climate Rhones.  Across the board they are aromatic, elegant and restrained.  William works with all native yeasts and neutral oak whenever he uses wood.  The Grenache Blanc is crisp and bright.  The Saralee's Vineyard Viognier makes me do the happy dance for its citrus and stone fruit aromas and flavors balanced by great acidity.  This is a rare wine – William gets all the fruit from the only three rows of Viognier in this vineyard. 
His reds – a Mourvedre, Cinsault and Syrah are out of this world.  The Cinsault is from the oldest Cinsault vines in the world, in the Bechthold Vineyard in Lodi, where the vines are 135 years old.  1000 cases.
My favorite single wine was from Clos Solene in Paso Robles. Guillaume Fabre makes a wine called Hommage a nos Pairs Syrah – inky, with an intense nose of black fruit, crushed violets, earth and black pepper.  This is a blend of grapes from two vineyards, Russell Family and L'Aventure, both in Paso Robles.
Guillaume also makes a fabulous Hommage Blanc, with Roussanne and Viognier that is full bodied and rich but it's not flabby like similar blends tend to be.  Hommage Blanc has great acidity, keeping it elegant.  450 cases.
Talk about a great start out of the blocks.  Levo Wines is one of the new kids on the block, and at the Garagiste Festival's "Big Blend" Shootout on Thursday night, winemaker Bret Urness's  blend of Grenache, Syrah, Petite Sirah and Viognier took top honor in the speed blind wine tasting out of 23 wines. 
The wines presented by Levo mark the winery's first release and the wines are outstanding.  White Lightening, a blend of Roussanne and Viognier from the awesome Stolpman Vineyard has a caramel nose with stone fruit, almonds and a little spice on the palate.  Ransom Grenache/Syrah comes from organic vineyards.  It has black cherry and blackberry and licorice.  It's almost black and so intense.   Ransom is my favorite of the lineup.  I also am a fan of Levo's flagship Bad Medicine Syrah, a bad boy wine that's deep and brooding and so complex. 
All the wines are $36 except for the Grenache Rosé which they weren't pouring.  I'm looking forward to great wines from Levo going forward.  800 cases.
Cloak and Dagger epitomizes the garagiste spirit.  Winemaker Ray Schofield says he's had to operate in secret for the first few years.  No matter, Cloak and Dagger defines renegade, which is what garagistes are all about.
This is where to go if you want to have fun with wine but want it to be good wine.  Clever names like Pseudonym for Pinot Noir and Illuminatus for Sangiovese are what you'll find.   The Conspirator's Reserve Syrah was my favorite, with black pepper, and that savory, old world northern Rhone meaty character to it.  1000 cases.
The WineFashionista award for best dressed vintner goes to Ishka Stanislaus of Guyomar Wine Cellars.  He wore a daring light pink blazer with ripped and faded jeans.  What drew me in was the label – an elephant and I adore elephants.  What kept me there was the quality of the wines. 
Ishka says the elephant represents a noble tradition and deep family ties.  While he was born in Sri Lanka he grew up in New York City then moved to California with his wife.  He comes from a family of farmers so it was a natural to plant grapes in his new home. 
Many of his vines are head trained and the vineyards are dry farmed.  Across the board the wines have structure and elegance, and they are earthy.  Monsignor is a delicious blend of Petite Sirah, Zinfandel, Syrah and Grenache.  Laity is a beautiful Syrah, Grenache, Petite Sirah and Zinfandel Blend.  These are interesting wines, in blends I don't think I've seen before.  For a first release from this winery, I'd say they are on the right track.  400 cases.
Powell Mountain Cellars had one of my favorite Viogniers of the day – very much in the style of a northern Rhone from Condreiu.  Full of white flowers, honey and stone fruit with good minerality.  Winemaker Bill Powell's Ascent GSM blend is luciious and fruit forward and the Alta Montana is as smooth as silk.  1000 cases.
The winemaking team of Helen and John Falcone produce a great lineup of wines.  The Falcone Family Vineyards Chardonnay from the Sierra Madre Vineyard in Santa Maria Valley is crisp and elegant with citrus notes. 
The Syrah from Paso Robles has a floral and spicy nose.  Annaté V is a complex and unique wine, a blend of three vintages (2011, 2012 and 2013) of Syrah, Cabernet Sauvignon and Petite Sirah.  The Syrah and Cab come from Helen and John's estate Mia's Vineyard in Paso Robles.  1250 cases. 
The Albariño at Diablo Paso Wines is gorgeous.  It's crisp, floral and slightly frizzante.  I can just taste Dungeness crab with this wine.  I am also partial to winemaker Enrique Torres's Tempranillo, which is very earthy and complex with a long finish.  It's not a harsh or tannic wine like Tempranillo can sometimes be.  300 cases.
Aaron Wines.  I'll admit it, I went purely for the labels here.  The Aequorea labels are eye catching and evocative of the sea. 
Well that's because the vineyard source for the Viognier, Pinot Gris and Pinot Noir, the Spanish Springs and Seafarer Vineyards, are only two miles from the ocean in Pismo Beach.  What's inside the bottle does not disappoint.  The Viognier has honey, apricot and nutty notes with a hint of saltiness, like the ocean air.  The Pinot is elegant with cherries and good minerality.  Aequorea means "of the sea" in Latin.  600 cases.
Ok this is not wine, but you need some type of glassware to consume it from.  Why not have something stylish?  Don't worry, you're not tipsy.  Sempli wine glasses and decanters look like tops, and indeed the do lean to one side. 
These frosted Cupa-vino glasses and Vaso-vino decanters can swirl your wine for you, because yes, you can spin them like a top.  Glassware is handblown lead-free crystal, created by designer Daniele Semeraro.  For the holidays, he's introducing the Monti collection of stemless sparkling wine flutes.  This glass has a flat bottom on the outside but the interior bottom is a cone, to enhance the bubbles in the glass.