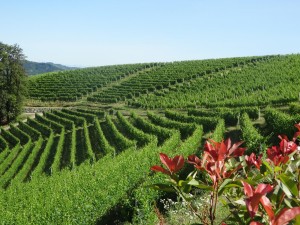 Going to wine country in Italy is not quite like visiting Napa Valley or Sonoma County in California.  While things are getting easier for wine tourists, you just can't show up and expect to be able to go taste at any winery you want to.  The concept of a tasting room open daily to visitors is still something that's not as common in the region that is home to Barolo and Barbaresco.  But one winery has recognized the need for opening its doors to wine lovers.  That's why you can visit the Ceretto winery and be treated not only to great wine but eye-catching art too.
The main Ceretto winery is in Alba, just outside of the historic downtown area.  The building was a farmhouse that belonged to Vittorio Emanuele II, the famous king who ruled the newly unified Italy in the mid 1800s.  Now it is the Ceretto Monsordo Bernardina winery.
"We we decided to produce a space here that was open seven days a week," says Roberta Ceretto, our guide for our visit.  "We copied exactly the example of Napa Valley and this has become one of the most visited wineries because it is always open.  She calls it a blend of "an artistic installation and wine tasting."  That's because the architecture of the building is unusual, unexpected, and very modern.  There's a big bubble – called the Acino — that extends out, cantilevered over the vineyards, to give you an almost 360 degree view of the vines.  It's a cool observation deck, intended to look like a single grape.
Putting Arneis on the Map
I had the great pleasure of visiting with Roberta, third generation vintner at her family's winery, known not just for Barolo and Barbaresco, but also for Arneis, a white wine from the Roero district of Piemonte, a wine her family singlehandedly made famous.  Her grandfather Riccardo began the winery in Alba in the 1930's.  Roberta's uncles Bruno and Marcello joined Riccardo in the late 50's and early 60's and began to make innovations, including purchasing estate vineyards.
If you like Italian white wines, you may have had a glass or a bottle of Ceretto Blangé Arneis, I've had it many times in the states; it enjoys a world wide reputation and distribution.  "That is our most successful wine," says Roberta.
"It is a wine that really has written a chapter in the enology of this district because it is a white and so very unusual because when you imagine Piemonte you associate it with big important red wines. The intention was to choose a grape that was local and invest in it.  Now Blangé represents 50% of our total production, around 1 million bottles."
Moscato Champions
Ceretto also produces a wonderful Moscato d'Asti, the slightly sweet, effervescent wine.  Moscato is enjoying immense popularity right now in the U.S. but Ceretto has been a champion of the style produced in Asti for many years.  "It's a wine that was born for a special feeling because my family originally comes from the district of Moscato," Roberta says.  "My grandfather was born there, also my father so at the end of the 70's they looked for something different something to combine with Barolo and Barbaresco and they thought about Moscato. It's a versatile wine that you can enjoy it as an aperitif, or with dessert."
Hazelnuts and Nougat
One of the best Moscato pairings I've ever had was with Ceretto's Moscato d'Asti and the hazelnut torrone that Ceretto makes from the hazelnuts grown on its property.  I did not know that after grapes and white truffles, hazelnuts are the next biggest agricultural crop in Alba.  Torrone is made with toasted hazelnuts, honey, sugar, and vanilla.  Ceretto sells torrone at their tasting room so if you visit, do not miss it.
Art in the Vineyard
We go to visit the Ceretto winery in Barolo, Bricco Rocche, where the high end DOCG Barolos are produced.  Here is another art gallery, a very modern glass cube.  "We are in the middle of the Barolo district," says Roberta.  "All around there are Barolo vines and on the top of the hill there is this gigantic transparent cube that has become kind of a landmark of Barolo."
The day of our visit, an installation by the local artist Valerio Berruti fills the cube with panels with images of children, creating a carousel that you walk around to view.  The panels are gigantic and you look up, down and all around, with the rolling hills of Barolo as the backdrop.
Our next stop is closer to the village of Barolo, in Ceretto's Brunate vineyard where a very special work of art resides.  It is the Sol LeWitt and David Tremlett Chapel, created in 1999 as a collaboration between the two world renown artists.  The original chapel building, built in 1914, had never been consecrated, so the chapel, which by the late '90s was in disrepair was renovated and given new life, with Tremlett painting the interior murals and LeWitt adding the bright, colorful designs on the exterior.  If you know where to look, you can see this splashy building from many places in Barolo.  Roberta says people come from all over the world just to see the chapel, and on this day we were not the only visitors.
Over the years, art and wine have become ever more important at Ceretto.  "It's something that's become a second job for me," says Roberta.
"I believe that contemporary art and wines like Barolo and Barbaresco have many points in common because they need to be always explained. It's impossible that you can appreciate a Barbaresco or Barolo and enjoy it immediately.  It's exactly the same with a piece of contemporary art.  You need always someone who tells you a the story."
The Ceretto family also believes food is an art form.  They own Piazza Duomo in the heart of Alba, a three star Michelin restaurant.  The pink interior walls are adorned with a mural by Francesco Clemente .  "We are trying to create an attraction so art, architecture and food are all part of this attraction," Roberta explains.
Roberta feels it is a different experience to come to Italy, to Piemonte and see the vineyards and the winery and taste the wine and enjoy it with the local cuisine. "The very secret of this unique setting in Piemonte is the soil.  It is the only place where Nebbiolo can grow in that way to produce great Barolo and Barbaresco." This is what she wants you to come experience on a visit to Ceretto.