Before I went on a recent wine trip to Chile, I had certain assumptions about both the country and its wines, things like all the wines are cheap (I mean good values) and it was more important whether or not wineries were in the northern or southern part of this long skinny country.  Not only am I wrong, but I learned many fascinating things to share with you.  Chile tends to get pigeonholed into the "inexpensive" wine category but that's not a true reflection of what's happening in wine there now.
Carmenere may be the national grape of Chile, but Cabernet Sauvignon is king
Don't get me wrong, we had some beautiful fruity, spicy and earthy Carmenere (reference wines:  Root: 1 Carmenere $12, TerraNoble Gran Reserva Carmenere $18)  But there is more total vineyard acreage in the country planted to Cabernet, about 40% to 10% planted to Carmenere.
Many of the "icon" wines are high end Cabs.  Take the wines of the Don Melchor label for example.  This Bordeaux blend was developed by Concho Y Toro, first released in 1987.  The blend is chosen from 150 lots sourced in the Puente Alto vineyard in the Maipo Valley, near the Andes. It's a wine that has power and structure with elegance and ages well.  I recently had a vertical tasting of the 1989, 1993, 2006 and 2009 (not on this trip but at another tasting).  The '89 (100% Cab) fruit was so fresh it just jumped out of the glass.  Lots of spice and tobacco too, with very soft tannins.  A pleasure to drink.  Current vintages now have a little Cabernet Franc which makes the wines more perfumey and floral and more concentrated.  Current release is 2009 ($90).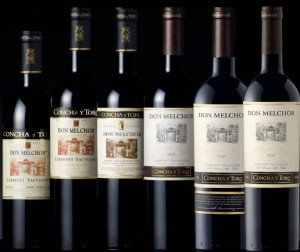 In Chile one of the "icon" wines we tried is the Cousiño-Macul Lota.  Lota is made from 90 year old Cabernet Sauvignon vines, blended with Merlot from 30 year old vines.  Lots of both varietals are vinified separately, and then barrels are tasted to determine the final blend, which will spend  8 months in French oak before bottling.  The result is a very complex, layered wine with lots of cassis, rose and leather and licorice.  The finish is long and silky ($80).  Chile produces some amazing, if expensive, Cabernets.
No phylloxera in Chile
Phylloxera you might remember is a louse that attacks grapevine roots, causing them to die.  California had to do a major vine replanting due to being hit with a bad phylloxera outbreak in the 1980's.  All vines in the U.S. and in Europe are now grafted onto phylloxera resistant rootstock.  But in Chile you don't see grafted vines.  Viña Ventisquero winemaker Sergio Hormazábal told us he can taste a difference in a wine made from grafted and ungrafted vines.  He says the non-grafted vine produces a wine with purity of fruit and more balance and intensity.  (Reference wine:  Root: 1 Sauvignon Blanc $12)
The hallmarks of a well-made Carmenere
It shouldn't have green flavors.  Instead, Carmenere is spicy, full of black fruits, earthy and silky on the palate.  If you taste a Carmenere that has green, herbal notes that means most likely the Carmenere got too ripe, bringing out those flavors.  The soul of Carmenere is spice, earth, soft and not too tannic.  (Reference wines:  Root:1 Carmenere $12, TerraNoble Gran Reserva Carmenere $18)
Leyda Valley Rising
While Casablanca Valley has been considered the region for the best Chilean Sauvignon Blancs, look to Leyda Valley to become the the premiere area for Sauvignon Blanc and Pinot Noir.  Why?  It's closer to the Pacific Ocean so it gets the cold breezes that helps keep temps down and acids up.  It's a very cool climate and I can attest to that.  The day we visited the Gauruma vineyard at Viña Leyda it was foggy and freezing (to me anyway.  I had polar tech on and I was still cold).  But that's the climate you need to produce these laser focused, grassy, high acid, crisp, fresh wines with a strong grapefruit aroma for Sauvignon Blanc.  Not the typical cat pee, green Sauv Blanc you might get elsewhere from Chile.  (Reference wines: Leyda Gauruma Sauvignon Blanc $18 and Classic Sauv Blanc $11.)
The Pinots from Leyda were a revelation – true to varietal character, not over extracted, no Syrah added, just pure fruit expression.  Red cherry and raspberry, crisp, earthy yet elegant.  (Reference wines:  Las Brisas Pinot Noir $22, Lot 21 Pinot Noir $40.)

Climate:  East to West Rules
Speaking of climate, Chileans have discovered that the most important factor in Chile is not the north to south aspect but the east to west aspect, meaning it's more important whether your vineyards are closer to the Andes or to the ocean in selecting the best vineyard sites for growing particular varietals.  There's a bigger difference in microclimates and soils east to west.  It's warmer closer to the Andes and wines get riper, are fruitier and bigger.  The coolness closer to the ocean gives leaner, purer fruit in the wine, higher acids and freshness with very present minerality (lots of shells and fossils in the soils).  So you'll see the best Cabs and Syrahs grown near the Andes, and Sauvignon Blancs and Pinots grown near the ocean.
Of course one grape can have a different expression depending on where it is planted.  TerraNoble shows this with a bottling of Carmenere, a series called CA1 and CA2.  CA1 is planted in the Colchagua Valley which is close to the Andes.  CA2 is planted at the coast.  They have found the climate is the factor that makes the difference in these wines, more so than the soils.  The CA1 is riper and fruitier with sweeter tannins; the CA2 is fresher, higher in acid and more austere ($40 each).
Pioneers in Carmenere
TerraNoble should know what they are talking about when it comes to Carmenere.  They are one of the early pioneers to plant and take on this varietal, which was discovered in Chile in 1994 and first thought to be Merlot.  But TerraNoble figured it out (Carmenere is often called the lost varietal, having ties to the Vidure grape in Bordeaux.)
TerraNoble was also the first winery to varietally label Carmenere in 1998.  Now  Carmenere makes up 30% of TerraNoble's production.
Salmon specialists
Chile is the second largest producer of salmon after Norway (we learned this at Viña Ventisquero over a beautiful lunch of salmon paired with their Root: 1 Pinot Noir $12)
In Chile you can drink wine in the same year it was harvested
Because Chile is in the southern hemisphere, harvest happened during April and May.  Here we are in October 2013 drinking 2013 Sauvignon Blancs.  You can't really do this in the northern hemisphere unless you are drinking Beaujolais Nouveau (no thank you).
Urban winery
There is actually one winery operating in the city limits of the Chilean capital of Santiago, Cousiño-Macul.  Founded in 1886 it is one of the oldest wineries in Chile.  They have vineyards, a winemaking facility and tasting room in Santiago.  [Reference wines:  Sauvignon Gris (dry orange peel and rich) $15, Antiguas Reservas Chardonnay $17, Finis Terrae Cab Merlot blend (very floral and perfumey $26.)
Some wine producers spared by the big frost
Not all vineyards were affected by the big frost of early October 2013.  Vineyards where air circulation is really good, thanks to winds close to the Andes or winds close to the coast, were spared.  Frost damage means the newly unfolding shoots and leaves were burned.  The vines will have to regenerate leaves, but not as many, and will be about a month behind in developing.  This means smaller crops.
The best place for stargazing 
Chile's Atacama Desert, in the most northern part of the country, is the driest desert in the world.  Because of the high altitude and little to no rain, there is no humidity, no clouds or smog, making it one of the best places in the world for observatories. Eight high altitude observatories in the world call the Atacama Desert home.
What does this have to do with wine? Mayu is located in the Elqui Valley, in Chile's northernmost wine growing region.  Like the Atacama Desert, the air here is crystal clear and it's an amazing place to stargaze (so I'm told.  I tried this wine at a local tasting prior to my trip).  Mayu takes its name from the Inca word for The Milky Way, Mayu.  Viña Mayu produces an amazing Carmenere Syrah ($15) that is very smoky, with lots of tobacco and ash on the nose, but soft and plush in the mouth with zippy fruit, spice, licorice and some savory notes too.
Chardonnay to challenge Burgundy
One of the biggest surprises on my visit to Chile was tasting some spectacular Chardonnays that are not over oaked or big butter bombs.  Winemakers here are getting the same message that California Chard makers are getting — tone down the butter and oak!  My first revelation came a few days before my trip, at a tasting at a local wine bar where I tried the Sol y Sol Chardonnay, made by Viña Aquitania, from grapes grown in the Malleco Valley.  It's minerally yet rich, with an elegant balance of fruit, hazelnuts and acid.  This is a wow wine, and if I close my eyes I taste Burgundy ($40).
The other Chardonnay that impressed me is the Cousiño-Macul Antiguas Reservas Chard ($17).  You can't beat the price for this beautiful wine with white flowers, tropical fruit, pear, lemon, soft mouthfeel, great acid and a super long, elegant finish.  It's lively but has that underlying minerality that gives it a Burgundian character.