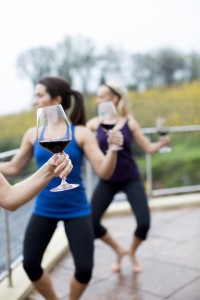 The first time I heard of a winery offering a yoga class was in 2008, at Periscope Cellars in Emeryville, CA.  This was actually a yoga class where you sipped wine as you held various poses.  We shot a session for an episode of In Wine Country and I love the shot at the end of the woman holding the wine glass with her foot.
Since then it seems that no matter where you are in American wine country you're not far from a yoga class at a winery.  You can do your best downward dog at wineries in Temecula, CA, in the Lehigh Valley, PA wine country or along the Loudoun Wine Trail in Virginia.  The trend has also taken off in Canada, especially in the Niagara grape growing region where there's a Yoga in the Vineyard Facebook page with 239 "likes."
In addition to yoga, you can also find other physical activities like Pilates offered at wineries, all with the intent to offer a different, healthy and fun experience in wine country, something more than just tasting wine.  Of course after detoxing doing these workouts, retoxing with a few sips of wine seems like the natural thing to do.
Om at Wente Vineyards
Perhaps no other vintner is more into his asanas (yoga poses) than Karl Wente.  Karl is the fifth generation winemaker at his family's winery Wente Vineyards in Livermore Valley. CA.  Karl is a devoted yogi, practicing almost as long as he's been making wine.  He started yoga to relieve back pain.  "After my first practice, I was sore in ALL parts of my body, which to me was an indicator of how well yoga worked my entire body," he says.  He was hooked from then on.
It's not unusual to find Karl in a yoga pose in the winery, during a winery meeting, or on a plane.  He starts his day with yoga and tries to get in two to three classes a week.  He recently remodeled his home, built in the 1880's by a founding vintner of Livermore Valley, and "added a yoga space in my bedroom, complete with an inversion station." Inversions, Karl says, are handstands, headstands or forearm stands.  "Inversions have a way of resetting things in the body.  Good for focus and alignment."
Karl says that yoga not only keeps his body centered, but also centers his winemaking.  "Yoga has helped encourage balance and focus in my life, allowing me to become more acutely in-tune with the wines I make."  He's practiced at other wineries, including when he worked at Brown Brothers in Australia.  "People would walk behind tanks and see me in a pose and laugh."  He takes all that in stride.
Karl loves to share yoga with others, and produced a short video about yoga, Yoga for Life, and writes about yoga on the winery's blog.  But Karl wanted to do more to share yoga with others, so he created the Yoga & Wine Series at Wente Vineyards.  The classes are offered during the warmer months of the year and take place outdoors on the winery grounds, complete with vineyard views.  You just roll your mat out on the grass.  "There's an incredibly calming feeling when practicing yoga in a natural environment, breathing in fresh air and focusing on the countryside around you," says Karl.
I took part in one of the classes last September as a guest of the winery.  It was a warm afternoon and there were about 25 people who came to practice yoga.  There's live percussive music, courtesy of friends of Karl's.  You can't help but get into the vibe, which is mellow and relaxed.  The once a month class, geared to beginners to advanced yogis, is an hour long, and is taught by Suzanna Spring, of the local yoga studio Cosmic Dog.  She's also a friend and in Karl's band, The Front Porch.  If Karl is in town at the winery, he'll roll out his mat and take part too.
I found the class challenging, and by the time we said namaste I was ready for a little wine.  Karl says the idea behind offering tastes of wine is that your senses are heightened after a yoga practice.  "For wine lovers, this translates to finely tuned senses to the aromas and flavor profiles in wine and can elevate a tasting experience," he says.  "The event promises to enchant the senses."
We're offered two wines, a white and a red, all estate and sustainably produced (natch).  The pours are small; after all we don't want to totally undo all the good we've just worked to achieve.  It's a fun, social activity, one that I would sign up for again with friends.  And you know what?  The wine really does taste better.
2013 classes begin June 25 at Wente Vineyards.
The Shala at Big Basin Vineyards
Shala is the Sanskrit word for "sacred space," and Samantha Brown says that's what you'll find on the second (top) floor of the Big Basin Vineyards winery in Boulder Creek, CA, in the Santa Cruz Mountains wine country.  "Sanskrit is the language of yoga, and shala also means the place where yoga is practiced."    She and her husband, Big Basin founder and winemaker Bradley Brown, created the yoga studio together, the Shakti Yoga Shala.
Bradley built the winery in the style of a timber frame barn, "to reflect the historical nature of the property.  The winery is on the foundation of the original homestead."  He sourced the redwood from around the vineyard, sustainably, cutting down younger trees so that older trees could grow, and the lumber was milled on-site.    Bradley had planned to use the second floor space for an office or apartment, "but I couldn't envision putting walls in it once it was done." he says.  "I wanted to leave it untouched."  The views were pretty incredible and he felt a yoga or a dance studio might be a better fit.
Now you have to understand that Bradley practices yoga and has been for at least 12 years.  He did some yoga as a teenager, and years later yoga called to him "as a way to keep my body flexible.  I was rock climbing a lot and it seemed like an obvious fit."  He also found yoga was a great stress reliever.  One of his teachers introduced him to Samantha Shakti, herself a a devoted yogi and yoga instructor, who eventually became his wife.  She now leads the classes in the Shakti Yoga Shala at Big Basin.
About the yoga studio, Samantha says "the land manifests itself into the building.  There are windows on all four walls, and the outside comes inside.  You see the line of vines of the Homestead Block going uphill, which is part of the original vineyard."  She says the space is important to a yoga practice and upon entering the studio and seeing the vineyard views, "people decompress and de-stress when they walk in the door," she says.  "It's wonderful to be in a place where the yoga practice is so connected to the earth."  On weekend workshops, sessions are given both in the studio and out in the vineyard.
Bradley says he likes a "diverse palate" of yoga practices, based on what Samantha has come to develop as "balanced action yoga."  She describes it as a combination of Hatha yoga with dynamic Vinyasa and therapeutic poses.  Public classes are held three days a week with Mondays devoted to therapeutic yoga for joint injuries, Wednesdays are for traditional Vinyasa with slow postures and Fridays are a mix of Vinyasa and Plyometrics, which involves jumping to get the heart rate up.
Samantha says more people are finding their way to the yoga shala through the Big Basin wines.  "It's all part of a holistic lifestyle.  We farm sustainably and grow organic grapes.  People are looking for that balance."
The Browns have held yoga workshops followed by wine tastings at Big Basin, led by Bradley, and he hopes to do more.  He says it's fun to do a tasting after a yoga session because he finds people more mindful and aware from having just practiced yoga.  "Learning about wine means paying attention," and he feels yoga heightens that attention, which means you're more aware of the wine and how it smells and tastes.
Samantha agrees, saying that people will tell her before that they don't really taste all the flavors and nuances in wine, but then after practicing yoga and tasting wine, they can pick up the different aromas, tastes and textures.
When asked if his yoga practice influences his winemaking, Bradley is thoughtful.  For him, yoga and wine are both about sensory awareness.  "Winemaking can be hectic, especially during harvest, and it's good to be relaxed and mindful enough to make the right decisions."  He says yoga helps to clear his mind.  "Winemaking is an art, but also requires a huge amount of attention to detail," and Bradley says his yoga practice allows him to be very aware and mindful during the winemaking process.  "Wine and yoga compliment each other for sure."
Classes are ongoing; details are online including a schedule of upcoming workshops and events, including an afternoon of yoga with a farm to table wine dinner on June 22, 2013.
Pilates at Vineyard 29 
In Napa Valley Vineyard 29 is known for crafting highly acclaimed Cabernet Sauvignon wines in a high tech winery.  It's also becoming a destination for Pilates in wine country.  The winery has teamed up with Pilates ProWorks out of San Francisco to create ProWorks29, a half day of working out, tasting wine and dining on lunch alfresco.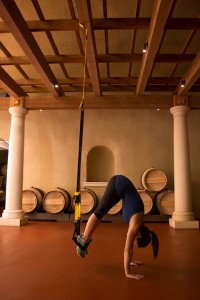 Why Pilates?  Vineyard 29's Holly Anderson says "As an avid runner and athlete, I thought that a program that combined fitness and wine would appeal to both women visiting the Napa Valley on vacation and Bay Area women looking to combine an active day in wine country learning about and tasting wine.  I thought it would be a great way to show people that enjoying wine is a part of a healthy lifestyle, after a great workout of course."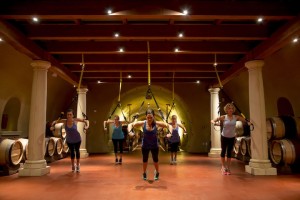 ProWorks29 is a customizable program for groups of six to 12 people.  You can decide if you want to spend the hour workout session doing mat Pilates, a high intensity Barre Pro class (based on traditional ballet barre work) or a TRX Pro class, where you use your own body weight in a military-inspired workout.  A combo called 29/29 combines both mat Pilates and Barre Pro.  It's up to you how hard you want to work.
Afterwards, there's a winery tour through the beautiful state-of-the-art winemaking facility for about an hour. Then comes the wine from the Vineyard 29 portfolio, which includes the Vineyard 29 Estate and CRU labels, served along with either a healthy spa lunch menu or a more indulgent meal.  Does Pilates heighten your senses the way yoga does?  Taylor Carter Sanin, co-owner of Pilates ProWorks says the workouts rev up your endorphins, and the goal is for you to leave feeling energized and ready to take on your next wine country destination.