The Santa Cruz Mountains American Viticulture Area (AVA), in northern California, running along the Pacific coast south of San Francisco to Santa Cruz, is one of the most diverse wine growing regions in the world.  This wine country is also one of the oldest in California, dating back to the mid 1880's when pioneers like Paul Masson were growing grapes and making wine here.  There are nearly 70 wineries that call the Santa Cruz Mountains home, and a few new kids on the block are noteworthy newcomers.
Silvertip Vineyards
Silvertip Vineyards is what you would call a destination winery — but not because you'll find a fancy chateau or Michelin-starred dining there.  You have to work to find this Santa Cruz Mountains winery, tucked away among the redwoods, only a few miles as the crow files from Silicon Valley, but a world away in this forested setting.  You do not expect to find grapes growing here.  As you drive the curvy and slow going Upper Zayante Road you think you've missed a turn somewhere and have that urge to turn around.  Then out of nowhere a vineyard pops into view.  This is the former Nelson's Christmas Tree Farm, now one of the newer wineries in Northern California.
Philip Nelson grew up in a farming family – one devoted to raising Christmas trees.  The winery name Silvertip is taken from a variety of evergreen firs, ones with a silver-tipped pine needle, natch.  He is the third generation to live on this property and to work in agriculture, although his day job is in the biotech industry.  He manages the vineyards here, having planted the first acres of Pinot Noir and Syrah in 1999.  He sold those grapes to other wineries.  As happens with so many growers, Phil and his family discovered that the wines from their grapes were quite good, even excellent, and they decide they should keep them to make their own wines.
Today you'll find Chardonnay growing at Silvertip, in addition to the Pinot Noir and Syrah.  These are mountain vineyards, with elevations peaking at 1,700 feet.  The large amount of rocks is evidence that the land was once an ocean floor.  This imparts a Burgundian-like minerality to the Chardonnay and Pinot –  an elegant style that defines the house style here, along with crisp acidity and plush fruit.  But these are not fruit bombs, thanks to the cool ocean breezes the vines get from being on the coastal side of the Santa Cruz Mountains range.  The wines strike that delicate balance between freshness, ripeness and structure that wines grown in the Santa Cruz Mountains are known for.
Winemaker Paul Stroth's a minimalist in the winery.  He uses as much native yeast for fermentation as possible (the 2012 Chardonnay is 100% wild yeast) and prefers mostly neutral oak, with a little new wood, for aging.  His Pinots are a blend of carefully selected clones, the best barrels of each, and the 2009 current release is floral but at the same time has an earthy, mushroomy character.  The 2008 Syrah is creamy and spicy at the same time.  The 2010 Chardonnay is stunning, a good value at $25.  For this non-Chard lover, it turned my head, thanks to the bright lemon and apple notes.
Silvertip is just getting started.  The 2012 vintage out of barrel is very promising.  Their production level is tiny – but there's room to grow.  Silvertip also makes a very nice Rosé of Syrah, which is only $10 and sells out quickly. Heck, the most expensive wine they sell is $35 (for one of the Pinots).  If you're looking for a mom & pop style winery, full of passion for the land and still largely undiscovered, then Silvertip should be on your wine radar.  The winery posts a tasting schedule for the winery on their website and is also open during the Santa Cruz Mountains Winegrowers Association Passport Days four times a year.
Black Ridge Vineyards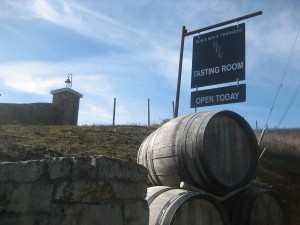 This latest newcomer in the Santa Cruz Mountains is a short drive from downtown Los Gatos, and not quite as off the beaten path.  Once you drive through the fancy stone and iron gate that is the entrance to Black Ridge Vineyards, I'll admit it is rather odd to see a half home in plain view.  No, this is not the winery, but a home project put on hold.  It is intended for one of the winery owners, Fred Faltersack.  Don't let that deter you.  The wines from these estate vineyards are worth seeking out.
This former christmas tree farm (could it be that the same soils that grow great Christmas trees also make great wines?) actually has roots as a vineyard during the mid 1880's – when pioneers like Paul Masson were also making wine in the Santa Cruz Mountains.  During Prohibition, the vines were replanted to prune trees.  In 1999 partners Jim Landes and Fred Faltersack purchased the land and replanted the vineyards.  The original plan was to only grapes.  But those wines were tasting really good, and well you know the rest, Jim and Fred got into the winery biz.  They hired winemaker Bill Brosseau, of Testarossa Winery to craft Viognier, Pinot Noir, and a Bordeaux blend called "San Andreas Red."  And yes, this rich and bold wine will rock your mouth.  Indeed, the San Andreas fault runs through one of the upper vineyards, and seemed the appropriate name for Black Ridge's flagship wine.
You should know Jim and Fred are deadly serious about wine and food.  Jim is a member of an elite dinner club, the Santa Clara Professional Wine Society, made up of wine lovers and professionals from the Silicon Valley area who hold intense dinner competitions at different member homes or wineries, with over the top menus and of course wines.  Jim's dinner in November 2011 is legendary, a car-themed evening at the winery, complete with servers dressed in mechanics clothes, car chassises as centerpieces, and a big game menu.  Knowing that Jim owns 22 car dealerships throughout the U.S. – mostly Ford and Infiniti shops – and that he is a passionate classic car collector and its easy to understand the inspiration for the theme. Jim's dinner scored the highest points (all dinners scored on location, decor, costumes, food and wine) and has yet to be outdone.  One benefit of Black Ridge Vineyard wine club membership is going to wine club events where his classic car collection is often on display.
I'm especially  impressed with the Viognier, the only white wine Black Ridge makes.  Juicy and rich, it's full of stone fruit and honey, with a long, satisfying finish.  You can enjoy tasting the wines with views of Silicon Valley, the Lexington Reservoir and the Santa Cruz Mountains – a spectacular way to spend a sunny afternoon.