I recently returned from a weekend in New York City with Sniffapalooza. Sniffa what? How do you spell that? Funny name. Indeed, most people I know or meet have never heard of Sniffapalooza. They think it's a word I made up. No, it's actually a group of perfume lovers who get together to sniff out the latest and greatest fragrances from around the world. What has this got to do with wine? Read on.
Sniffapalooza was launched in 2004 by two scent obsessed women, Karen Dubin and Karen Adams. What started out as a small group going to fragrance events (perfume launches and private master classes) has become an international phenomenon.  In the summer of 2010 I went with the group on a perfume odyssey through Grasse, France. Sniffapalooza gets amazing behind the scenes access at perfume labs and with the noses themselves (nose=perfumer in industry talk). "The Karens" are known around the world.
I had so much fun on that trip and learned a lot, especially seeing how perfume is so similar to wine, from how raw ingredients are sourced to the equipment used to make the juice (industry jargon for perfume), right down to the bottling and labeling line. So when Fall Ball 2011 was announced (a weekend in October filled with perfume events jammed into two days), I signed up immediately. The goodie bags are legendary (see top photo of my haul). They also do a Spring Fling weekend, which I have not been to (yet).
Day 1
Registering early and signing up for the Bergdorf Goodman breakfast is a must. Imagine 50 perfume lovers in a private room in Bergdorf's at 8 am. Some of us flew in (me), some drove up from Virginia, Florida. All to hear and try out the new offerings from perfume houses big and small. Seeing old friends and making new ones is a big part of this event. We all have the mad love of perfume in common, and it's so nice to be with people who not only get that but share in your passion too. Reps from the major fragrance houses — Annick Goutal, Chanel, Prada, Creed, Guerlain, Jo Malone to name a few – presented their newest fragrances.  We had something like 30 presentations; this was speed spritzing.
Many companies now launch new fragrances to Sniffapalooza.  Why?  We're a dedicated and passionate audience, always willing to try the next new perfume.  We tweet aabout perfume, blog about it and Facebook it too.  Sniffapalooza is recognized industry wide for its incredible influence.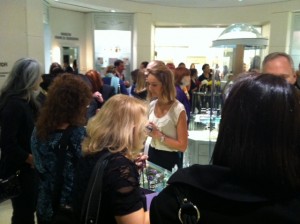 We then decended on the Bergdorf perfume department; just look at the size of our crowd. Sniffapaloozas are super smellers. I tried at least 8 to 10 scents, covering my hand, wrist, mid arm, elbow and upper arm, on both sides. Most people would be overwhelmed by four scents. Not Sniffas. I am convinced we are like super tasters in wine, with finely tuned noses. Makes sense for me, I swirl, sniff and sip countless wines on any given day.
On to  Henri Bendel, where Christophe Jouany was on hand to launch his perfume label Jouany to Sniffapalooza.  He's a fashion photographer, and his travels around the world shooting beauty and fashion inspire his scents. There are two perfumes; my favorite is Marrakech.
I also met perfumer Neil Morris, who is quite personable and makes great juice.  I walked away with Scrumptious which is truly scrumptious and smells good enough to eat.
Neil signed the bottle. This made me think of going to wine country and meeting the winemakers instead of the tasting room staff. Although they may be competent, the pourers don't and really can't exude the passion of the vintner. There's such a difference when the perfumer makes the presentation, or greets you at the perfume counter. I think there is a correlation between what I fell in love with scentwise and meeting the master nose. I now have a connection to that fragrance. It tells a story to me. Just like meeting the winemaker, you then have the story behind the label.
A visit to Krigler was next. I'd never heard of this fragrance house, whose only U.S. location is in the shops at the Plaza Hotel.
Ben Krigler is utterly chaming, carrying on a family business that launched in Russia in 1904. Krigler boasts many famous fans, including Grace Kelly, Jacqueline Kennedy Onassis and Audrey Hepburn.  Scent No. 55, Lovely Patchouli, is stellar (Jackie O wore this).
Day 2
We were ready to keep on sniffing.  We had a "master class" with Molton Brown.  This was very cool because Molton Brown, known for their fragrant and colorful hand and body washes, was launching their first ever fine fragrance line and they chose to debut it exclusively to Sniffapalooza.  We learned about the inspiration behind the scents, a journey along the Silk Road.  We all got to take a lab sample home plus a little goodie bag.
Next, MiN New York.  This fragrance apothecary in NoLita stocks hard to find perfume lines.  One of my all time favorites is Nobile 1942 from Italy, and they also have Frapin, which are Cognac inspired scents.  Once again a niche perfume line debuted to Sniffapalooza.  Carner Barcelona launched three scents created by Sara Carner, including D600 eau deparfum, which I absolutely love.
At lunch we had more presentations from indie perfumers.  Carlos Huber created Arquiste, a line just launched at Barney's New York.  He's really an architect focused on historical preservation.  Hearing how he was inspired to create fragrances that are a snapshot in history is just great and we all want to own a few of his scents, including Flor y Canto and Anima Dulcis.  We learned about Technique Indiscrete from Belgian perfumer Louison Libertin that launches soon in the U.S., and I can't wait!  Of course this Sniffapalooza Fall Ball is the label's American debut.
For our last stop on the perfume trail, we converged on the Sephora Sensorium in the Meatpacking District.
This is an interactive journey through perfume.  Sephora and fragrance giant Firmenich created the exhibit.  It's a great way to learn about the history of fragrance, and to experience it in new ways, other than sniffing bottled scents.
Did you know some people loose their sense of smell?  You get to experience that.  At the end you sit at the Fragrance Bar and sniff perfumes in "flights," much like wine tasting flights.  It's smelling blind as opposed to tasting blind.  I discovered some scents I really liked that I would never have tried.  This exhibit in New York runs through November 27th, 2011.
At that point I think all of us were sniffed out.  We must have tried a heady 200+ fragrances in two days.  Our noses needed a rest.  But I can't wait until Spring Fling!