If you don't know that pizza is one of the hottest trends in the food world, then where have you been? In New York City, a place hardly lacking for good pizza pies, several artisan pizzerias recently opened. During my trip there last week, my goal was to try a slice at each. On my list: Motorino, Keste´, Co. and Pulino.
First up, Keste´ Pizza & Vino. It's in a cramped and narrow space on Bleecker Street in the West Village. No reservations; put your name in and wait. On a Monday night, it was only 10 minutes. You are practically sitting in your neighbor's lap — tables are crammed in every nook and cranny. No matter, the aroma of pizza baking is more than enough to make it worth your while to stay.

You get Neapolitan-style pizzas here. In fact, Keste´ is the US headquarters for the Associazione Pizzaiuoli Napoletani, the group that sets standards for what "true" Neapolitan pizza is, and also certifies pizzaiolos (pizza makers).
From the menu of 20+ pizzas, we chose the classic Margherita and the Proscuitto e Arugola. Pies are cut into 4 wedges, enough for 2 people to share. The Margherita was FANTASTIC. The crust is little crisp and chewy. The flavors were bold yet familiar: creamy mozzarella, sweet tomato sauce. This pizza ranks up there with what I think is the best pizza in the world, at Pizzeria Bianco in Phoenix. The proscuitto pizza was no slouch though, again the same chewy crust and just the right balance of salty and sweet flavors. Keste´ was my favorite of the NYC pizzerias. A very simple wine list has offerings of house white,
rose´or red, served in carafes.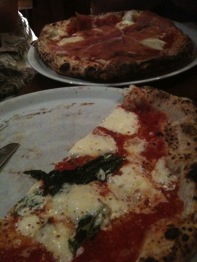 Next, Pulino. This is a Keith McNally restaurant, the same guy who brought us Balthazar and Pastis. Pulino's interior will remind you of Balthazar and Pastis. It's rustic and simple, just like the food. Pizza's the main attraction here, as is the chef, Nate Appleman, a recent transplant from San Francisco. He was part of the A16 team, one of the San Francisco's best Italian restaurants.
An insalate verde is a good start. Loved the dressing, made with red wine vinegar and creme fraiche.  I can tell you that Pulino's pizza, at least the one I had, bested A16's efforts. I had the Pesto pizze,with basil and arugula pesto, mozzarella, pecorino, pinenuts and stracchino Here the crust is paper thin and crisp, allowing the toppings to shine. The stracchino was rich and gooey, a nice contrast to the crunch of the crust.
Last is Co., which is in Chelsea. Very minimalistic interior.
This pizzeria was opened by Sullivan Street Bakery owner and baker, Jim Lahey. He's known for his no-knead dough technique. At Co. the crust isn't too thin or too thick — I'd say it is between the super thin Pulino crust and Keste's chewy crust. Of the three pizzas, Co.'s had the proper amount of blistering and char. For me, what makes the pizza here are the toppings. I had the Peas & Proscuitto pie, with peas, shredded proscuitto, bechamel, mozzarella, parmesan and pea shoots. I'd never had peas or pea shoots on a pizza, but it really works! I paired it with a Shinas Estate "The Innocent" Viognier, a match that was fresh and luscious. Co. has the best wine list of the three pizzerias.
I never did make it to Motorino. Yet another Neapolitan-style pizzeria, Motorino has two locations, in Brooklyn and in the East Village. According to New York Times food critic Sam Sifton, it's the best pizza in the city. My next trip to NYC, I'm going straight to Motorino from the plane. We'll see then if it's better than Keste's.
Of course, while all of these pizzas are excellent, none of them are better than any of the pies coming out of Chris Bianco's pizza oven at Pizzeria Bianco in Phoenix. It's worth a quick round trip flight from San Francisco just to eat one of his amazing pizzas. So far, Keste´ is the only pizzeria I've found that even comes close.
Of course, there's always Ray's – big slices, stringy cheese, mmmm. Perhaps it is the quintessential New York pizza.