Have you even thought about wind being an element of what makes great wine?
You do once you spend time in California's Santa Lucia Highlands.
In mid July I was part of a Somm Tour of the this AVA, which runs along the Santa Lucia Mountains range in Monterey County, south of Carmel. To the east is the Salinas Valley, home to strawberry, lettuce and other produce farms. To the west, over mountain peaks, is the Pacific Ocean. And, most importantly for this appellation, to the north, Monterey Bay, a large, frigid body of water that impacts grape growing here more than anything else.
That's because the cold, strong winds that come off the bay make their way down to the Santa Lucia Highlands every day like clockwork, starting about 12:30 p.m. Once the wind starts hitting grapevine leaves, the vines start slowing down. During the growing and ripening season, this means slow and steady ripening over a longer period (called hang time). Sugar levels increase slowly, and acids and flavors have more time to develop, resulting in wines of great balance and freshness.
We started feeling the wind on our first visit, at Morgan Wine's Double L Vineyard, which is SIP Certified (a sustainable farming certification) and the AVA's only certified organic vineyard. Many consider it one of the grand cru vineyards of the region. Vintner Dan Lee planted Chardonnay, Pinot Noir and a little bit of Riesling on this hillside site. The wines are aromatic, clean and crisp. You get tropical fruit on the whites and savory herbal notes on the Pinot.
By the time we got to McIntyre Vineyards, the wind had really kicked in, and we could hear it howl in our empty wine glasses. Grower and winemaker Steve McIntyre is a leader in sustainable practices and farms his family's SIP Certified vineyard and his company farms 12,000 vineyard acres in the region.
He takes soil seriously, talking to us from a soil pit dug in the vineyard to show how far down the roots grow through soil and rock — to 18 feet — and the density of those root systems.
McIntyre spends lots of time cultivating the vines and that shows up in the glass. The 2015 Estate Pinot Noir is lean and earthy, with lots of acid, black cherry and black plum fruit, very Burgundian in style.
The winds were in full force at Garys' and Sobranes vineyards, nearly knocking wine glasses off the picnic tables set up for our tasting. Gary Franscioni, who entered into a partnership with Gary Pisoni for Garys' Vineyard on a handshake, works side by side with sons Adam and Nick at Roar Wines. They just finished building a winemaking facility just north of the Santa Lucia Highlands, in Castroville.
"Roar is family owned," Franscioni says, echoing a common refrain from vintners across the AVA. "My family has been farming in this area since 1886. We are here to stay, it is generational, we are not looking to sell. This is our livelihood and we love what we do."
The Roar Garys' PInot Noirs are intense and complex, with lots of bright red fruit and spicy and long, elegant finishes. The Syrahs have screaming acidity, with meaty, savory notes, spice and violet florals.
Mark Pisoni, one of Gary Pisoni's sons, oversees the farming on his family's vineyards, including Soberanes, planted years ago.
"We are real farmers," Pisoni says. "The generational thing is cool. We are here, we own the ranches, we own the equipment and we are real, genuine and authentic, not corporate."
What that allows him — and the Franscionis to do — is keep investing in vineyard farming, working to make great vineyards even greater.
Franscioni says, "There is no budget, we do what it takes to grow great grapes. All vines get touched every 14 days; we pay our labor, whatever it takes in the vineyard. We are here every day twice a day responsive and aggressive in managing vines."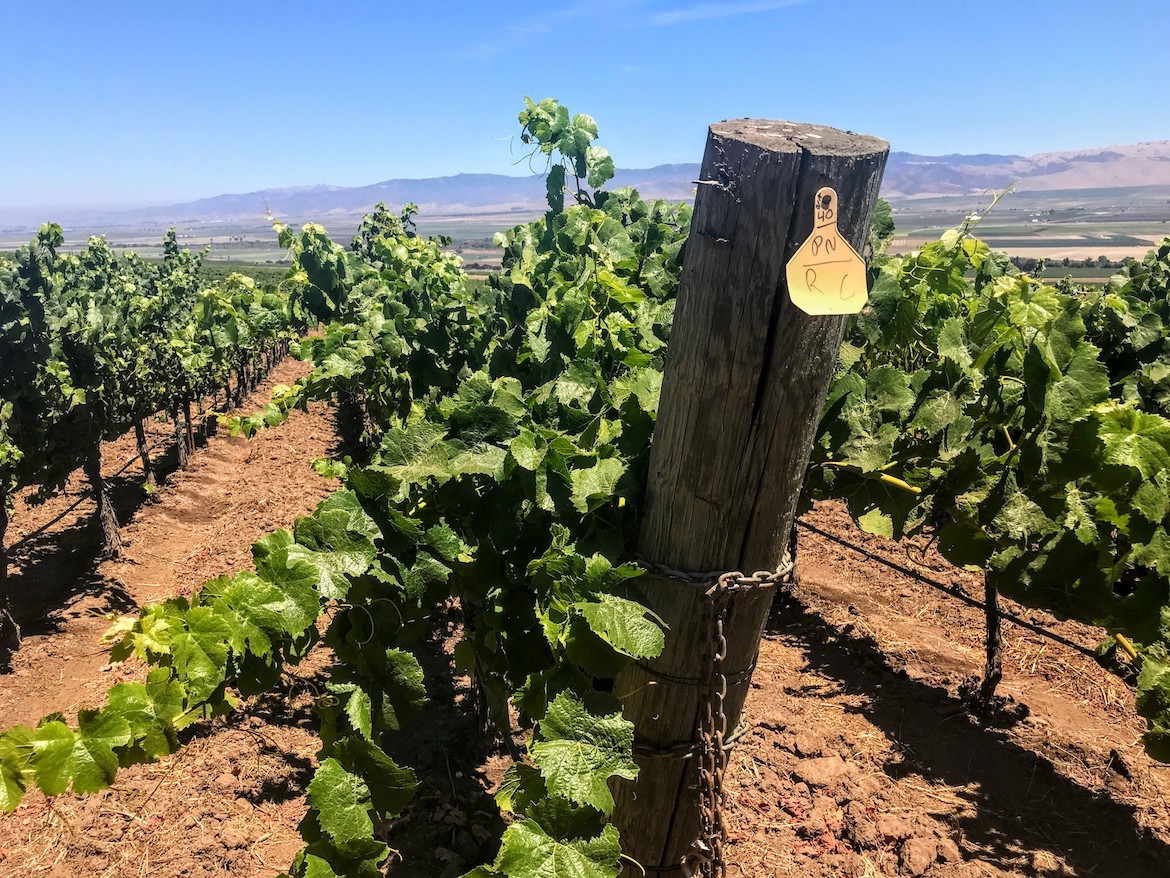 To that end, they've increased vine density, which causes vines to compete for water and nutrients, stressing them more, resulting in lower yields, but even more pure, concentrated flavors.
"My dad says he's too old to drink average wine and wants the very best wine," Pisoni says, "he told us so don't waste your time kids making mediocre wine."
The wines are anything but medicore. The Lucia wines are made by PIsoni's brother Jeff. The 2016 Lucia Sobranes Vineyard Chardonnay shows racy minerality and lots of natural acidty, with a creamy texture from lees stirring.  The 2016 Lucia Sobranes Pinot Noir is acid driven, savory, herbal and downright yummy. The investment in farming is paying off.
"There's no investor money, there's no crazy hedge funds, it's our money," Pisoni says. "We spent years and years farming, we earn a little money we plant something. This is rare in the wine industry but for us it is the only way to do things. It is the way you should do things."
We end the Garys' and Sobranes tour on a fun note — taking a tour through the vines in picking bins, pulled by tractors. You see these during harvest — workers fill bins with just harvested grapes, which are then transported to trucks to deliver the fruit to the winery. Yeah, it was geeky but cool.